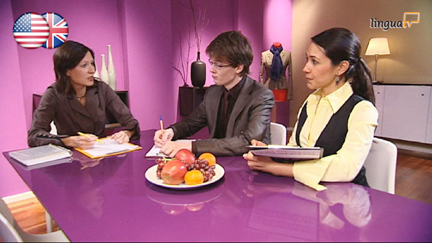 ¡Aprenda idiomas de forma eficiente y divertida con LinguaTV!
Los vídeos de LinguaTV le preparan rápida y efectivamente para la comunicación diaria y en los negocios. Aprenda vocabulario esencial y gane seguridad para enfrentarse a situaciones reales.
Nuestros contenidos:
Inglés comercial
Realizar con éxito entrevistas de trabajo

Dirigir reuniones

Negociar con éxito

Manejar eficientemente reclamaciones

Realizar presentaciones

Correspondencia comercial

Tratar temas confidenciales

Conversación
Francés
Conocer gente y presentarse

Comprar

Pedir en el restaurante

Pedir y dar direcciones

Ir al médico

Entrevistas de trabajo
Alemán
Saludarse y despedirse

Pedir en el restaurante

Pedir y dar direcciones

Quedar con alguien y conocer gente

Comprar

Ir al médico

Entrevista de trabajo
Hechos  
Fácil y rápido

Auténtico y orientado a la práctica real

Multimedia e interactivo

Flexible e individual

Eficiente y a buen precio
Novedades
04.11.2014
 | 
German Lesson: LinguaTV publishes new teaching material for Trainers of German as a Foreign Language
Teaching Material for German as a Foreign Language for all levels: A1-C1
[
màs
]
13.10.2014
 | 
Face-to-face lectures in virtual classrooms
Training: LinguaTV expands language-course services by eClasses
[
màs
]
20.05.2014
 | 
German as a foreign language: LinguaTV springs to the aid of skilled workers and students from abroad with new online courses
LinguaTV's online language-learning platform extended to include more audiovisual online German courses
[
màs
]
Eventos
27.01.2015
 | 
Visit LinguaTV at LEARNTEC 2015
27. - 29. January 2015 in Karlsruhe (Germany)
[
màs
]
Blog
18.12.2014
 | 
Linguistically fit into the new year!
LinguaTV gives you a 20% Christmas discount!
[
màs
]
02.10.2014
 | 
October 3rd - Anniversary of the German Reunification!
LinguaTV celebrates with 24%-discount!
[
màs
]
18.09.2014
 | 
German Grammar: the fast way!
New online grammar courses by LinguaTV
[
màs
]