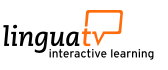 The LinguaTV method guarantees effective language learning and quick success - confirmed by customers and experts alike.
With our LinguaTV videos you can acquire the language skills that meet your needs and put them straight into practice - ideal for your professional life as well as for leisure and travel.
Designed and implemented by experts - based on the Common European Framework of Reference for Languages (CEFR) - and recommended for the preparation for examinations and official certificates.
Modular & flexible learning
The LinguaTV method makes language-learning flexible - offering you a customizable, round the clock curriculum - with countless opportunities for repetition.
With the LinguaTV Dashboard you can monitor your progress and analyse your linguistic competence at any time, as well manage the pace at which you learn.
By using LinguaTV you can reduce your language training costs by up to 50%. No more travel, room hire or cancellation fees to pay.
Learn Business English from authentic situations and interactive exercises!
English 4 for Intermediate (B2)
This course will help you to improve your English in a very specific way.
An ideal course for everyone who wants to learn Business German.
Our innovative and value-for-money language courses provide relevant content that will motivate and inspire your employees. Our exciting videos, interactive exercises, games and tests cover over 200 personal and professional situations. Our proven curriculum, based on the CEFR, ensures the highest standards, and, thanks to a realtime analysis of their learning progress, your employees and personnel departments will always be able to see that they are on course for success.
You can also make use of the support of experienced tutors who can further motivate the course participants by setting clear goals, monitoring progress and helping them to overcome any obstacles. Studies show that the return on investment of E-Leaning can be up to three times higher than other methods.
Our modern learning platform also offers individual language training (single lessons) with experienced, mother-tongue teachers from around the world. These lessons are easily scheduled (from 30 minutes per session) and not restricted by location. They provide the perfect solution to quickly and effectively improving your confidence and ability to communicate fluently in English, and of course in other languages too.
Course participants can also receive private tuition on site from our experienced language teachers. Our Blended Learning Concept, consisting of the seamless integration of our web-based resources and classroom teaching, focuses on the essentials and provides success-oriented tuition, leaving the participants free to concentrate on pronunciation and communication in the relevant language.
References
My students were enthusiastic about being able to work at their own pace. Learning with videos improved both their aural and oral skills while the wide variety of exercises catered for different learning styles.
The videos provide very good and important knowledge of the English language and portray clearly how employees should communicate in a professional way with our guests.
I was surprised by how easy you can learn German using LinguaTV. The grammar is very well explained, and the authentic videos are helpful in order to learn vocabulary and how to deal with everyday situations.