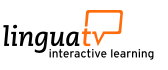 Course Overview
Choose your language and level from the selection boxes
Description

Tom Sanders is planning a business trip to New York. As he is in the city for the first time, he doesn't just have questions about the room facilities and the hotel service, but also about tourist attractions and restaurants. Check into "Hotel Transnational" with Tom Sanders, enjoy the hotel's friendly service, and join him as he takes his business lunch at a restaurant and sees the day out in a bar.
The authentic and entertaining situations prepare you quickly and efficiently for your trip abroad. With this course you'll simply have fun learning travel English!

Suitable for:
Participants with intermediate level English skills
Quick Facts

20 lessons with dramatic videos
Approx. 60 hours of learning
Over 1000 interactive exercises and learning games, such as crosswords, video quizzes, and many more
Authentic scenarios and relevant vocabulary
Subtitles and transcripts to aid understanding, which can be shown or hidden from view
Integrated online dictionary just a double-click away
Learning resources available for download
Click on a Lesson in the list on the left hand side to see lesson details.
Try out a lesson from our course and get an impression of how our training programmes work and what they include.
Enjoy the combination of entertaining learning videos and a wide variety of interactive exercises.
Have fun as you discover and learn with LinguaTV!