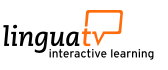 Course Overview
Choose your language and level from the selection boxes
1

Press return key for additional options

Italian for Beginners 1.1

Italian A1 20 Lessons approx. 850 Exercises

The first part of LinguaTV's "Italian for Beginners" offers you entertaining videos and interactive exercises that make learning exciting and different.

Description

Among its many online language courses, LinguaTV is now offering you the chance to learn Italian in a different and exciting way. Log on to meet Gianna, Lorenzo and Michela whilst they guide you through all of the fascinating places they visit. Featuring authentic and entertaining short films and interviews, which help you get to know much more about Italy's fascinating culture and unique traditions. You will also learn basic Italian grammar with Simona: interesting videos and exercises will help you improve your grammar knowledge.

LinguaTV's part one 'Italian for Beginners' is full of exciting videos and interactive exercises designed to help you learn. There is also a basic Italian grammar course to help you understand how the Italian language works. And if that is not enough, the course is jam-packed with interactive games, quizzes and puzzles!

Quick Facts


20 lessons
Approx. 70 hours of learning
Over 850 interactive exercises and learning games, such as video quizzes, and much more
Authentic scenarios and relevant vocabulary
Subtitles and transcripts to aid understanding, which can be shown or hidden from view
Integrated online dictionary just a click away
Plenty more learning resources to download

Click on a Lesson in the list on the left hand side to see lesson details.

Try out a lesson from our course and get an impression of how our training programmes work and what they include.

Enjoy the combination of entertaining learning videos and a wide variety of interactive exercises.

Have fun as you discover and learn with LinguaTV!