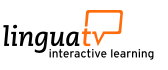 Course Overview
Choose your language and level from the selection boxes
1

Press return key for additional options

Vocabulary trainer: French for the media

French B1-B2 8 Lessons approx. ca. 1300 Exercises

Improve communication with your customers and colleagues and broaden your French vocabulary in the field of media.

Description

The LinguaTV vocabulary trainer "French for the media" prepares you for various situations in your professional life. The vocabulary is divided into 8 subject areas and is supplemented by audio recordings and illustrative example sentences.

The mobile LinguaTV app also gives you the opportunity to improve your pronunciation.

Level: B1-B2

This vocabulary trainer is translated into the following languages: English, German, Italian, Arabic

Quick Facts

8 units with approx. 500
audio recordings
approx. 500 practice-relevant example sentences
over 1,300 interactive exercises
also available on the mobile (LinguaTV app)

Click on a Lesson in the list on the left hand side to see lesson details.

Try out a lesson from our course and get an impression of how our training programmes work and what they include.

Enjoy the combination of entertaining learning videos and a wide variety of interactive exercises.

Have fun as you discover and learn with LinguaTV!