Job Interview
Paul Smithers has a job interview for a team leader position at an IT company.
Paul needs to talk about himself and his previous jobs to show that he would be the best person for the position.
You learn:
How to make small talk
To talk about your strengths and weaknesses
To describe your background and experiences
Ask appropriate quesitons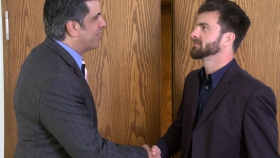 Learn languages when and where you want! Language courses with videos and interactive games for learning vocabulary, grammar and pronunciation. Available as mobile app! The award-winning learning system combines effective learning methods with state-of-the-art technology to help you quickly speak a foreign language.
Course Overview
Choose your language and level from the selection boxes