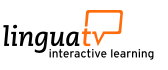 Course Overview
Choose your language and level from the selection boxes
1

Press return key for additional options

English 5 - Advanced

English B2-C1 35 Lessons approx. 1500 Exercises

Refresh and strengthen your English knowledge by increasing your vocabulary and fluency with this upper intermediate level language video course.

Description

In these videos, four American colleagues take you on a fun and educational adventure through their work place in San Francisco and help you learn important aspects of English, like vocabulary and grammar. Join the team as they make their way through enjoyable, lively business situations in English. At times a helpful tutor joins in to assist your learning process by giving helpful hints and clear explanations about grammar.

This LinguaTV English course is a good fit for the upper intermediate level. It's ideal for students who have mastered the intermediate level of English and want to strengthen their knowledge and fluency.

Quick Facts

35 lessons with over 60 videos: dramatic videos with realistic dialogues and grammar explanations
Approx. 100 hours of learning
Over 1500 interactive exercises and learning games, such as crosswords, video quizzes, and many more
Authentic scenarios and relevant vocabulary and important phrases
Subtitles and transcripts to aid understanding, which can be shown or hidden from view
Integrated online dictionary just a double-click away
Learning resources available for download
Learning Management System with Progress Control

Click on a Lesson in the list on the left hand side to see lesson details.

Try out a lesson from our course and get an impression of how our training programmes work and what they include.

Enjoy the combination of entertaining learning videos and a wide variety of interactive exercises.

Have fun as you discover and learn with LinguaTV!