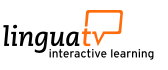 Course Overview
Choose your language and level from the selection boxes
1

Press return key for additional options

English Grammar Tutorial

English B1-B2 21 Lessons approx. 200 Exercises

English grammar in use: Refresh and broaden your knowledge of English grammar with engaging video tutorials on a number of topics.

Description

Simple present or present progressive? Adverb or adjective? 'Some' or 'any'? Which 'if'-sentence should be used when? These and many more important English grammar questions are clearly and precisely answered by our tutor in the LinguaTV English grammar tutorial. Problems which occur regularly are solved with the help of illustrative materials and understandable example sentences.
In this way you not only reinforce and develop your confidence when using grammatical structures, but also perfect your pronunciation. The course covers the most important fundamental topics of English grammar and thereby makes sure that you have the knowledge needed to be able to communicate in confidence in every situation. Learn English grammar with videos and entertaining grammar exercises.


Quick Facts

21 lessons with video tutorials
Approx. 60 hours of learning
Over 200 interactive English grammar exercises and learning games, such as crosswords, video quizzes, and many more
Important fundamental grammar topics explained simply and understandably
Clear examples of usage
Useful vocabulary
Subtitles and transcripts to aid understanding, which can be shown or hidden from view
Integrated online dictionary just a double-click away
Learning resources available for download

Suitable for:
Participants who would like to improve and develop their English grammar

Click on a Lesson in the list on the left hand side to see lesson details.

Try out a lesson from our course and get an impression of how our training programmes work and what they include.

Enjoy the combination of entertaining learning videos and a wide variety of interactive exercises.

Have fun as you discover and learn with LinguaTV!