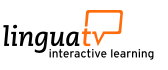 Language Training
Choose your language and level from the selection boxes

Description

We offer you the opportunity to prepare yourself for targeted and relevant types of telephone conversation. Our video training presents authentic telephone conversations based on important themes from the professional world, such as the coordination of appointments, dealing with booking requests, and placing and taking orders. Familiarise yourself with basic conversation structures and you will learn how to use the English language in a confident manner.
Try it out and improve your "Telephone English".
Suitable for:
Participants with good prior knowledge of the English language
People working in a variety of areas (e.g. administrators, secretaries, assistants)
Management and management trainee staff with international responsibility
Quick Facts
10 lessons with dramatic videos
Approx. 30 hours of learning
Extensive video coaching for business communication on the telephone
Over 200 interactive exercises and learning games, such as crosswords, video quizzes, and many more
Authentic scenarios and relevant vocabulary
Subtitles and transcripts to aid understanding, which can be shown or hidden from view
Integrated online dictionary just a double-click away
Click on a Lesson in the list on the left hand side to see lesson details.
Try out a lesson from our course and get an impression of how our training programmes work and what they include.
Enjoy the combination of entertaining learning videos and a wide variety of interactive exercises.
Have fun as you discover and learn with LinguaTV!