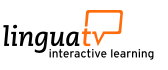 Course Overview
Choose your language and level from the selection boxes
1

Press return key for additional options

German for Upper Beginners 2.1

German A2 18 Lessons approx. 1300 Exercises

Learn German online with LinguaTV: this language course prepares you for everyday situations in German.

Description

Alexander is new in Berlin and is looking for a flat. Whilst looking around, he meets the student Katja, who already knows her way around the capital well. She really likes Alex and helps him on his search...
Follow the story of Katja and Alex, and experience authentic videos showing how German is used in typical everyday situations. Go along with Alex to the doctor, go shopping with Katja, and keep your fingers crossed for her at her job interview.
While watching the LinguaTV soap "German for Upper Beginners 2.1", you develop the usual language abilities as you go along, like listening comprehension, vocabulary and grammar. In this way, you learn German online with videos and have fun!

Suitable for:
Participants with very basic German language skills

Quick Facts

18 lessons with dramatic videos
Approx: 68 hours of learning
Over 1300 interactive exercises and learning games, such as crosswords, video quizzes, and many more
Authentic scenarios and relevant vocabulary
Subtitles and transcripts to aid understanding, which can be shown or hidden from view
Integrated online dictionary just a double-click away
Learning resources available for download

Click on a Lesson in the list on the left hand side to see lesson details.

Try out a lesson from our course and get an impression of how our training programmes work and what they include.

Enjoy the combination of entertaining learning videos and a wide variety of interactive exercises.

Have fun as you discover and learn with LinguaTV!