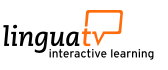 Language Training
Choose your language and level from the selection boxes

Description

The successful company Shore from San Francisco is entering the European market and taking some expert advice from a French design agency. Over such a long distance, communication problems can not be completely avoided... Practice important phrases and structures for English language communication by using an authentic storyline from the business world. Learn English on LinguaTV and improve your conversation skills for an effective communication.

Suitable for:
Participants with intermediate level English skills
Employees working in all areas of responsibility, particularly marketing, distribution, finances, and others
Management and trainee management staff with international responsibilities
Quick Facts
Based on learning materials from Cornelsen Publishers
Extensive video coaching for business communication
Authentic scenarios and relevant vocabulary
Subtitles and transcripts to aid understanding, which can be shown or hidden from view
Over 160 interactive exercises and learning games, such as word falls, quizzes, and many more
Integrated online dictionary just a double-click away
Learning resources available for download
Click on a Lesson in the list on the left hand side to see lesson details.
Try out a lesson from our course and get an impression of how our training programmes work and what they include.
Enjoy the combination of entertaining learning videos and a wide variety of interactive exercises.
Have fun as you discover and learn with LinguaTV!