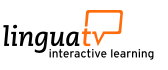 Taaltraining
Choose your language and level from the selection boxes
1

Press return key for additional options

Spanish for Beginners 1.2

Spaans A1 16 Lessen approx. 200 Oefeningen

Learn Spanish in a fun and easy way with our online course for beginners. Alejandro and Patricia? Story of love or friendship?

Beschrijving

Learning Spanish with LinguaTV has never been so fun and easy.

Improve your knowledge of Spanish and find out how easy it can be. Thanks to our teachers you will have the opportunity to improve your language skills and get excited about the hispanic culture and traditions.

In the second part of this course you will improve your grammatical knowledge acquired in 1.1 and you will increase your vocabulary. Improve your knowledge by following our grammar video and completing the interactive exercises at the end of each unit.

With LinguaTV learning Spanish is a breeze!

Quick Facts

16 lessons with over 40 videos: dramatic videos with realistic dialogues and video tutorials
Approx. 65 hours of learning
Over 200 interactive exercises and learning games, such as crosswords, video quizzes, and many more
Authentic scenarios, relevant vocabulary and important phrases
Subtitles and transcripts to aid understanding, which can be shown or hidden from view
Integrated online dictionary just a double-click away
Learning resources available for download
Glossary
Learning Management System with Progress Control and Recommendations for your Learning
Important fundamental grammar explained in a direct, simple and clear way by a video tutor"

Klik op een les in de lijst aan de linkerkant om de lesdetails te zien.

Test een les uit onze cursus: krijg een indruk van hoe onze trainingsprogramma's werken en wat ze allemaal omvatten.

Geniet van de combinatie van onderhoudende leervideo's en een grote variatie van interactieve oefeningen.

Veel plezier bij het ontdekken van en het leren met LinguaTV!