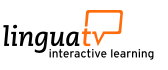 Zarys kursu
Wybierz swój język i poziom z pól wyboru
1

Naciśnij Return, aby uzyskać więcej opcji

German - Advanced Intermediate 4.1

Niemiecki B2 18 Lekcji w przybliżeniu 900 Ćwiczeń

Bring your knowledge of German to a new level. Consolidate and expand your vocabulary and understanding of grammar with this entertaining video-course.

Opis

Get to know Juliane and Claudia, two friends who live together in an apartment, meet their two friends Stefan and Martin and experience different everyday situations with them.
Martin is planning a concert and his friends help him overcome some problems such as a cold, fright and the doorman..
Juliane wants Stefan to convey more German culture, both talk about famous German people and go to a reading.
Learn many more interesting things about German culture and language in the other videos. Expand your regional knownledge of Germany and learn useful grammar and vocabulary.
Take advantage of the numerous exercise opportunities and apply the German language into practice.

Quick Facts

18 lessons with videos: dramatic videos with realistic dialogues and video tutorials
Approx. 60 hours of learning
Over 900 interactive exercises and learning games, such as multiple choice, video quizzes, and much more
Authentic scenarios, relevant vocabulary and important phrases
Subtitles and transcripts to aid understanding, which can be shown or hidden from view
Integrated online dictionary just a double-click away
Learning resources available for download
Glossary
Learning Management System with Progress Control and Recommendations for your Learning

Aby zobaczyć szczegóły lekcji, proszę kliknąć na liście po lewej stronie.

Wypróbuj za darmo jedną z lekcji naszego kursu i dowiedz się więcej o funkcjach i treści naszego treningu językowego.

Proszę korzystać z kombinacji interesujących materiałów video oraz różnorodnych interaktywnych ćwiczeń.

Miłej zabawy w odkrywaniu i uczeniu się z LinguaTV!