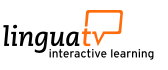 Zarys kursu
Wybierz swój język i poziom z pól wyboru
1

Naciśnij Return, aby uzyskać więcej opcji

Spanish for Beginners 1.2

Hiszpański A1 16 Lekcji w przybliżeniu 200 Ćwiczeń

Learn Spanish in a fun and easy way with our online course for beginners. Alejandro and Patricia? Story of love or friendship?

Opis

Learning Spanish with LinguaTV has never been so fun and easy.

Improve your knowledge of Spanish and find out how easy it can be. Thanks to our teachers you will have the opportunity to improve your language skills and get excited about the hispanic culture and traditions.

In the second part of this course you will improve your grammatical knowledge acquired in 1.1 and you will increase your vocabulary. Improve your knowledge by following our grammar video and completing the interactive exercises at the end of each unit.

With LinguaTV learning Spanish is a breeze!

Quick Facts

16 lessons with over 40 videos: dramatic videos with realistic dialogues and video tutorials
Approx. 65 hours of learning
Over 200 interactive exercises and learning games, such as crosswords, video quizzes, and many more
Authentic scenarios, relevant vocabulary and important phrases
Subtitles and transcripts to aid understanding, which can be shown or hidden from view
Integrated online dictionary just a double-click away
Learning resources available for download
Glossary
Learning Management System with Progress Control and Recommendations for your Learning
Important fundamental grammar explained in a direct, simple and clear way by a video tutor"

Aby zobaczyć szczegóły lekcji, proszę kliknąć na liście po lewej stronie.

Wypróbuj za darmo jedną z lekcji naszego kursu i dowiedz się więcej o funkcjach i treści naszego treningu językowego.

Proszę korzystać z kombinacji interesujących materiałów video oraz różnorodnych interaktywnych ćwiczeń.

Miłej zabawy w odkrywaniu i uczeniu się z LinguaTV!