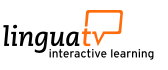 Zarys kursu
Wybierz swój język i poziom z pól wyboru
1

Press return key for additional options

Spanish - Intermediate

Hiszpański B1 20 Lekcji w przybliżeniu 550 Ćwiczeń

Join us on a journey through the Spanish speaking world: Practice your Spanish language skills on intermediate level with LinguaTV's video stories.

Opis

In our course "Spanish for intermediate learners" we take you on a journey through the Spanish-speaking world: Join us from Madrid to Buenos Aires to La Habana, while enjoying Cuban music, learning Spanish phrases and taking dancing lessons in Argentinian tango. Thus you learn to expand not only your Spanish vocabulary, but also get to know the country, culture and people.
Besides the LinguaTV learning videos we offer many interactive exercises that help you train the new words and phrases in an entertaining way.

Quick Facts

20 lessons: dramatic videos with realistic dialogues
approx. 60 hours of learning
over 550 interactive exercises and learning games, such as crosswords, video quizzes, and many more
authentic scenarios and relevant vocabulary and important phrases
subtitles and transcripts to aid understanding, which can be shown or hidden from view
integrated online dictionary just a double-click away
learning resources available for download
glossary
learning management system with progress control and recommendations for your learning

Aby zobaczyć szczegóły lekcji, proszę kliknąć na liście po lewej stronie.

Wypróbuj za darmo jedną z lekcji naszego kursu i dowiedz się więcej o funkcjach i treści naszego treningu językowego.

Proszę korzystać z kombinacji interesujących materiałów video oraz różnorodnych interaktywnych ćwiczeń.

Miłej zabawy w odkrywaniu i uczeniu się z LinguaTV!