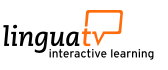 Zarys kursu
Wybierz swój język i poziom z pól wyboru
1

Press return key for additional options

Italian - Upper Beginners 2.2

Włoski A2 12 Lekcji w przybliżeniu 150 Ćwiczeń

Looking for an online Italian course for upper beginners? With LinguaTV's Italian course "Upper Beginners, part two" you'll discover Italy, italians and their language.

Opis

Learning Italian online has never been so easy and entertaining! Gianna and Lorenzo will take you to a journey through Italy, showing you more Italian culture, its cinema, fashion and shopping habits. Start learning Italian with LinguaTV's Italian course for upper beginners.

Real interviews, everyday's life as well as the final part of the Quiz Show "Lo so io"! Who's going to win the first prize? Watch the videos and find out!

The second part of the LinguaTV's Italian course for upper beginners will teach you new interesting grammar themes and will help you to improve your notions thanks interactive games and exercises. Have fun and improve your Italian with LinguaTV!

Quick Facts


12 lessons
Approx. 40 hours of learning
Over 150 interactive exercises and learning games, such as video quizzes, and much more
Authentic scenarios and relevant vocabulary
Subtitles and transcripts to aid understanding
Integrated online dictionary just a click away
Learning resources available to download



Aby zobaczyć szczegóły lekcji, proszę kliknąć na liście po lewej stronie.

Wypróbuj za darmo jedną z lekcji naszego kursu i dowiedz się więcej o funkcjach i treści naszego treningu językowego.

Proszę korzystać z kombinacji interesujących materiałów video oraz różnorodnych interaktywnych ćwiczeń.

Miłej zabawy w odkrywaniu i uczeniu się z LinguaTV!