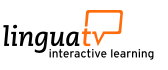 Visão Geral do Curso
Choose your language and level from the selection boxes
1

Press return key for additional options

German Grammar B2

Alemão B2 16 Lições aprox. 800 Exercícios

Use this course to bring your knowledge about German grammar to an advanced level and feel confident in using grammatical structures.

Descrição

With the help of numerous exercises and appealing tutorials you can deepen and perfect your knowledge about German grammar. Use various opportunities of practice and use German grammar as if it was your first language! Enjoy!

Content:

Tenses: Future Tense I, Future Tense II, Past Tense: Präteritum, Past Perfect Tense: Plusquamperfekt
Passive: Statal Passive, Processual Passive
Verbs: regular & irregular verbs, separable prefix verbs, "werden" (to become), combination of nouns with certain verbs
Demonstrative Pronouns and Prepositional Pronouns
Adjectives: Comparative & Declination
Sentences: Comparative Clauses, Optative Clauses, Relative Clauses, Connectors
Subjunctive I and Subjunctive II
Cases: Genitive, Dative, Accusative
Subordinate Clauses and Infinitive Clauses
N-Declination
Prepositions: local and temporal
Progressive Form
Reported Speech

Suitable for: Learners of German who have knowledge on an intermediate level

Atos

16 Grammar Units with tutorials from both B2 courses
about 53 study hours
more than 800 interactive exercises and games
relevant vocabulary
option of showing or hiding subtitles and transcripts
integrated online dictionary
Grammar overview available as download

Clique em uma lição na lista ao lado esquerdo para mostrar o seu conteúdo!

Experimente uma aula gratuita de nosso curso e tenha uma primeira impressão das funções e dos conteúdos do nosso programa.

Desfrute da combinação de vídeos de entretenimento e aprendizagem, e uma variedade de exercícios interativos.

Divirta-se enquanto você descobre e aprende com LinguaTV!