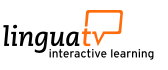 Visão Geral do Curso
Choose your language and level from the selection boxes
1

Press return key for additional options

German for Beginners 1.1

Alemão A1 21 Lições aprox. 950 Exercícios

German for Beginners: Absolute beginners can learn everyday German step by step.

Descrição

Immerse yourself in the German language without being thrown in the deep end! First learn objects, activities and grammatical structures. With German for Beginners 1.1, learn German in small steps and work through the skills of reading, writing and listening comprehension, as well as grammar. Build up a basic vocabulary. Have fun!

Suitable for: beginners

Atos

21 Lessons with scenic videos and grammatic tutorials
approx. 80 hours of learning
Over 950 interactive exercises and games
Authentic everday scenes.
Relevant vocabulary
Subtitles and transcripts to aid understanding that can be shown or hidden from view
Learning resources available for download.

Clique em uma lição na lista ao lado esquerdo para mostrar o seu conteúdo!

Experimente uma aula gratuita de nosso curso e tenha uma primeira impressão das funções e dos conteúdos do nosso programa.

Desfrute da combinação de vídeos de entretenimento e aprendizagem, e uma variedade de exercícios interativos.

Divirta-se enquanto você descobre e aprende com LinguaTV!