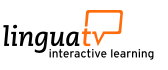 Visão Geral do Curso
Choose your language and level from the selection boxes
1

Press return key for additional options

Vocabulary trainer: French for IT

Francês B1-B2 9 Lições aprox. ca. 1300 Exercícios

Improve communication with your customers and colleagues and expand your French IT vocabulary.

Descrição

The LinguaTV Vocabulary Trainer "French for IT" prepares you for various situations in your professional life. The vocabulary is divided into 9 subject areas and is complemented by audio recordings and illustrative example sentences.

The mobile LinguaTV app also gives you the opportunity to improve your pronunciation.

Level: B1-B2

This vocabulary trainer is translated into the following languages: English, German, Italian, Arabic

Atos

9 thematic units on the professional field IT with approx. 500 vocables
audio recordings
approx. 500 practice-relevant example sentences
more than 1,300 interactive exercises
also available on mobile (LinguaTV app)

Clique em uma lição na lista ao lado esquerdo para mostrar o seu conteúdo!

Experimente uma aula gratuita de nosso curso e tenha uma primeira impressão das funções e dos conteúdos do nosso programa.

Desfrute da combinação de vídeos de entretenimento e aprendizagem, e uma variedade de exercícios interativos.

Divirta-se enquanto você descobre e aprende com LinguaTV!