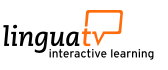 Visão Geral do Curso
Choose your language and level from the selection boxes
1

Press return key for additional options

Italian - Upper Intermediate 4

Italiano B2 15 Lições aprox. 450 Exercícios

Want to improve your Italian? LinguaTV's Upper Intermediate level Italian lessons help you to improve your skills with videos, exercises and a detailed grammar course.

Descrição

Improve your Italian language skills with LinguaTV's online Upper Intermediate Italian course. Join Gianna and Lorenzo on a new trip into the beauties of Italy. Learn how to discuss topical issues such as immigration, environment, technology and art and listen to authentic interviews and entertaining games, puzzles and quizzes.

LinguaTV's online Italian course features interactive videos, important grammar, relevant vocabulary and loads of exercises to help you to improve. Learn Italian with LinguaTV!

Atos

15 video classes
Approx. 60 hours of learning
Over 450 interactive exercises and learning games, such as video quizzes, and much more
Authentic scenarios and relevant vocabulary
Subtitles and transcripts to aid understanding
Integrated online dictionary just a click away
Learning resources available for download
Interactive vocabulary trainer

Clique em uma lição na lista ao lado esquerdo para mostrar o seu conteúdo!

Experimente uma aula gratuita de nosso curso e tenha uma primeira impressão das funções e dos conteúdos do nosso programa.

Desfrute da combinação de vídeos de entretenimento e aprendizagem, e uma variedade de exercícios interativos.

Divirta-se enquanto você descobre e aprende com LinguaTV!