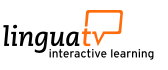 Cursuri de limbă
Utilizați casetele de selecție pentru a actualiza lista
1

Apăsați Înapoi pentru mai multe opțiuni

English 1 - Beginners

Engleză A1 21 Lecții approx. 800 Exerciții

Learn English online. Join four American friends in Los Angeles and learn the basics of English from native speakers in an entertaining way.

Descriere

Begin learning English with LinguaTV. It's fun and entertaining to build your vocabulary and practice your grammar online. Watch and learn about the lives of four international best friends who live in Los Angeles. The friends do everything together from shopping in a supermarket, doing yoga, putting old family photos on a wall, and planning a surprise party. But then something unexpected happens ...



Along the way, you can learn English, important vocabulary and the basics of English grammar. Ideal for Beginners!

Date despre chestionar

21 lessons with dramatic videos
Approx: 70 hours of learning
Over 800 interactive exercises and learning games, such as crosswords, video quizzes, and many more
Authentic scenarios and relevant vocabulary
Subtitles and transcripts to aid understanding, which can be shown or hidden from view
Integrated online dictionary just a double-click away
Learning resources available for download
Glossary
Learning Management System with Progress Control and Recommendations for your Learning

Apăsați click pe o lecție din lista din stânga și vizualizați detaliile despre lecție.

Încercați acum o lecție din cursul nostru, fără nicio obligație, pentru a vă face o idee despre funcțiile și conținutul cursului.

Bucurați-vă de combinația de videoclipuri de învățare distractive și exerciții interactive variate.

Distrați-vă descoperind și învățând cu LinguaTV!