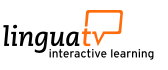 Cursuri de limbă
Choose your language and level from the selection boxes
1

Press return key for additional options

English 3 - Lower Intermediate

Engleză B1 22 Lecții approx. 1300 Exerciții

Build up your english knowledge while increasing your vocabulary and fluency with this fun online language video course.

Descriere

In the course you meet five young friends from San Francisco who take you on an entertaining path through important vocabulary and grammar via fun videos. Join the five friends as they enjoy life, and work their way through funny, everyday situations in English. A helpful tutor assists your learning process with helpful hints and clear explanations about grammar.

This LinguaTV English course is a perfect fit for the lower intermediate level. It's ideal for students with a fundamental grasp of English who want to increase their knowledge and fluency.

Date despre chestionar

22 lessons with over 35 videos: dramatic videos with realistic dialogues and grammar explanations
Approx. 84 hours of learning
Over 1300 interactive exercises and learning games, such as crosswords, video quizzes, and many more
Authentic scenarios and relevant vocabulary and important phrases
Subtitles and transcripts to aid understanding, which can be shown or hidden from view
Integrated online dictionary just a double-click away
Learning resources available for download
Learning Management System with Progress Control and Recommendations for your Learning

Apăsați click pe o lecție din lista din stânga și vizualizați detaliile despre lecție.

Încercați o lecție a unui curs și creați-vă o impresie despre cum funcționează programele noastre de studiu și ce includ.

Bucurați-vă de combinația de videoclipuri distractive și o gamă largă de exerciții interactive.

Distrați-vă în timp ce explorați și învățați cu LinguaTV!