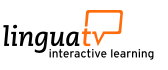 Cursuri de limbă
Choose your language and level from the selection boxes
1

Press return key for additional options

Spanish for Beginners 1.1

Spaniolă A1 15 Lecții approx. 180 Exerciții

Learning Spanish? With us it's a breeze! Log on to LinguaTV and spend your free time having fun with a pleasant and easy course.

Descriere

Learning Spanish with LinguaTV is easy and fun. Immerse yourself in Hispanic culture and discover its unique food, its music and its people. Enjoy the experience of learning a new language through the story of our characters: two young lovers who meet at a salsa club in a city where dreams are made, Madrid.

In the first part of LinguaTV's "Spanish for Beginners 1.1" course you will learn the basics of Spanish grammar.
Thanks to LinguaTV you can easily and effectively learn the grammar and the vocabulary to start talking spanish. You will also reinforce your knowledge with the interactive exercises and grammatical videos at the end of each unit.

Date despre chestionar

Apăsați click pe o lecție din lista din stânga și vizualizați detaliile despre lecție.

Încercați o lecție a unui curs și creați-vă o impresie despre cum funcționează programele noastre de studiu și ce includ.

Bucurați-vă de combinația de videoclipuri distractive și o gamă largă de exerciții interactive.

Distrați-vă în timp ce explorați și învățați cu LinguaTV!