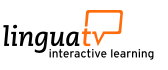 Cursuri de limbă
Choose your language and level from the selection boxes
1

Press return key for additional options

English for Hotel and Tourism Professionals

Engleză B1-B2 20 Lecții approx. 2000 Exerciții

Learn hotel English at LinguaTV: commerical English course online for hotel staff and tourism guides. Practice-oriented commercial English training for professionals.

Descriere

At the "Transnational Hotel" in New York greet, advise and serve the international business traveller Tom Sanders. Learn along with the hotel staff how to give precise information in English and how to courteously answer a guest's most important questions. A number of authentic scenes from everyday work (at reception, in the bar, in the restaurant, at the buffet etc.) introduce you to interacting and communicating with customers.
With entertaining scenes you will be able to use your English perfectly to provide an international guest with a trouble-free stay and an enjoyable time. With this course, you'll simply have fun learning English!

Date despre chestionar


20 lessons with dramatic videos
Approx. 60 hours of learning
Over 1000 interactive exercises and learning games, such as crosswords, video quizzes, and many more
Authentic scenarios and relevant vocabulary
Subtitles and transcripts to aid understanding
Integrated online dictionary
Learning resources available for download

Suitable for:
Participants with intermediate level English skills
Trainees and employees in the hotel and tourism industry
Managers in the hotel and tourism industry
Everyone who is looking for a career in the hotel and tourism industry

Apăsați click pe o lecție din lista din stânga și vizualizați detaliile despre lecție.

Încercați o lecție a unui curs și creați-vă o impresie despre cum funcționează programele noastre de studiu și ce includ.

Bucurați-vă de combinația de videoclipuri distractive și o gamă largă de exerciții interactive.

Distrați-vă în timp ce explorați și învățați cu LinguaTV!