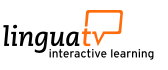 Cursuri de limbă
Choose your language and level from the selection boxes
1

Press return key for additional options

Vocabulary trainer: English for IT

Engleză B1-B2 9 Lecții approx. ca. 1300 Exerciții

Improve communication with your customers and colleagues and expand your English IT vocabulary.

Descriere

The LinguaTV vocabulary trainer "English for IT" prepares you for various situations in your professional life. The vocabulary is divided into 9 subject areas and is complemented by audio recordings and illustrative example sentences.

The mobile LinguaTV app also gives you the opportunity to improve your pronunciation.

Level: B1-B2

This vocabulary trainer is translated into the following languages: German, French, Italian, Arabic

Date despre chestionar

9 thematic units on the professional field IT with approx. 500 vocables
audio recordings
approx. 500 practice-relevant example sentences
more than 1,300 interactive exercises
also available on mobile (LinguaTV app)

Apăsați click pe o lecție din lista din stânga și vizualizați detaliile despre lecție.

Încercați o lecție a unui curs și creați-vă o impresie despre cum funcționează programele noastre de studiu și ce includ.

Bucurați-vă de combinația de videoclipuri distractive și o gamă largă de exerciții interactive.

Distrați-vă în timp ce explorați și învățați cu LinguaTV!