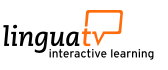 Cursuri de limbă
Utilizați casetele de selecție pentru a actualiza lista
1

Apăsați Înapoi pentru mai multe opțiuni

Italian - Upper Beginners A2.1

Italiană A2 18 Lecții approx. 230 Exerciții

Learn Italian with LinguaTV's online lessons for upper beginners, part one with entertaining videos and interactive exercises.

Descriere

Gianna and Lorenzo are back and can't wait to show you more Italian culture; its music, cinema, fashion and shopping habits... interested? Start learning Italian with LinguaTV's Italian course for upper beginners part two.

Jam-packed with interesting stories and real-life interviews with Italian people as well as the Quiz Show "Lo so io"!

LinguaTV's online lessons feature a detailed Italian grammar course to help your understanding alongside interactive games and exercises. Learn independently and differently with LinguaTV's Italian course.

Date despre chestionar


18 lessons
Approx. 60 hours of learning
Over 230 interactive exercises and learning games, such as video quizzes, and much more
Authentic scenarios and relevant vocabulary
Subtitles and transcripts to aid understanding
Integrated online dictionary just a click away
Learning resources available to download

Apăsați click pe o lecție din lista din stânga și vizualizați detaliile despre lecție.

Încercați acum o lecție din cursul nostru, fără nicio obligație, pentru a vă face o idee despre funcțiile și conținutul cursului.

Bucurați-vă de combinația de videoclipuri de învățare distractive și exerciții interactive variate.

Distrați-vă descoperind și învățând cu LinguaTV!