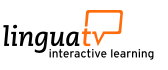 Lingorilla is turning into LinguaTV
Welcome to LinguaTV!
From now on, with LinguaTV we can offer you extended and updated language courses with even more features.
If you are a Lingorilla customer, please log in here *):
*) Important information for Lingorilla customers:
Existing Lingorilla Premium Accounts will continue to function under the previous conditions with LinguaTV
Your login and your password will remain the same. Only the domain name will change to: https://www.linguatv.com
But you will receive a host of additional features (see below).
Still not a customer of Lingorilla or LinguaTV?
Then get your
free demo

by clicking here
The advantages of LinguaTV:
regularly select new language-learning materials
learn foreign languages successfully with entertaining videos and interactive games
courses available in five different languages
learn whenever and wherever you wish – also when you're on the road thanks to our Android and iOS apps
determine your own pace of learning.
You don't need to restrict yourself to one language, because with a Premium Account you can select from all five languages (English, Spanish, French, Italian and German) at all levels.
Try out the LinguaTV Premium Account for 7 days free-of-charge
Still can't decide? No problem!
Simply register using the registration form below. You will then receive an e-mail from us with a link that you need to click on in order to confirm your registration. From that point on your registration is complete and your free account is activated
Now you can log in to your account and select your first language course straight away. The Premium Account ends automatically after seven days without you making any contractual commitments whatsoever.
If you enjoy learning languages with LinguaTV, you can extend your Premium Account in our web shop www.linguatv.com/orderNow.html for your chosen length of time. Here you can choose between the following 3 models:
3 months (2 courses) for 89,70€
6 months (4 courses) for 149,40€
12 months (8 courses) for 238,80€
* Important note: the contracts of the LinguaTV Premium Accounts are automatically renewed for the length of time already agreed unless the customer cancels the contract 14 days before its expiry. The cancellation is to be in writing, using either the contact form www.linguatv.com/contact.html or by e-mail to customerservice@linguatv.com
If you have questions or comments, then please contact us by e-mail using customerservice@linguatv.com
We wish you lots of success with your language learning

The LinguaTV Team